Eventide SP2016 Reverb
This is the most fun reverb I've ever used. The end. But really, I should explain why it's so fun and easy to use and above all, FAST, and it's all about the Position slider. It smoothly transitions from the front to the back of your virtual space in a realistic and ultimately satisfying way, and unlike any other 'verb, you don't need to fiddle with the early reflections to get them
just right
. Any other 'verb, you need to adjust the ER with each tweak of the reverberation time, but here, that happens in the background and you just sorta position the reflections around or behind your source, and you're on your merry way. I like to work quickly, and the SP2016 gets me where I want to go, whether it's the rooms and plates of the 80s, 90's or beyond.
So much for what it does. Let's back up a bit and look at what it is; since they've put it so succinctly, I'll borrow this next bit from Eventide's website: "The plug-in includes authentic emulations of Room, Stereo Room, and Hi-Density Plate algorithms, each available in two versions: Vintage and Modern. The Vintage algorithms are true to the original box, all the way down to the bit-depth. The Modern algorithms are brighter, more diffuse, and use a higher bit-depth. The algorithms naturally emulate every aspect of the sound of a real physical environment – from the complex early reflections, to the natural way in which the echo density increases with time, to the smooth Gaussian decay of the reverb tail. It's a powerful simulation that lends itself to parametric control."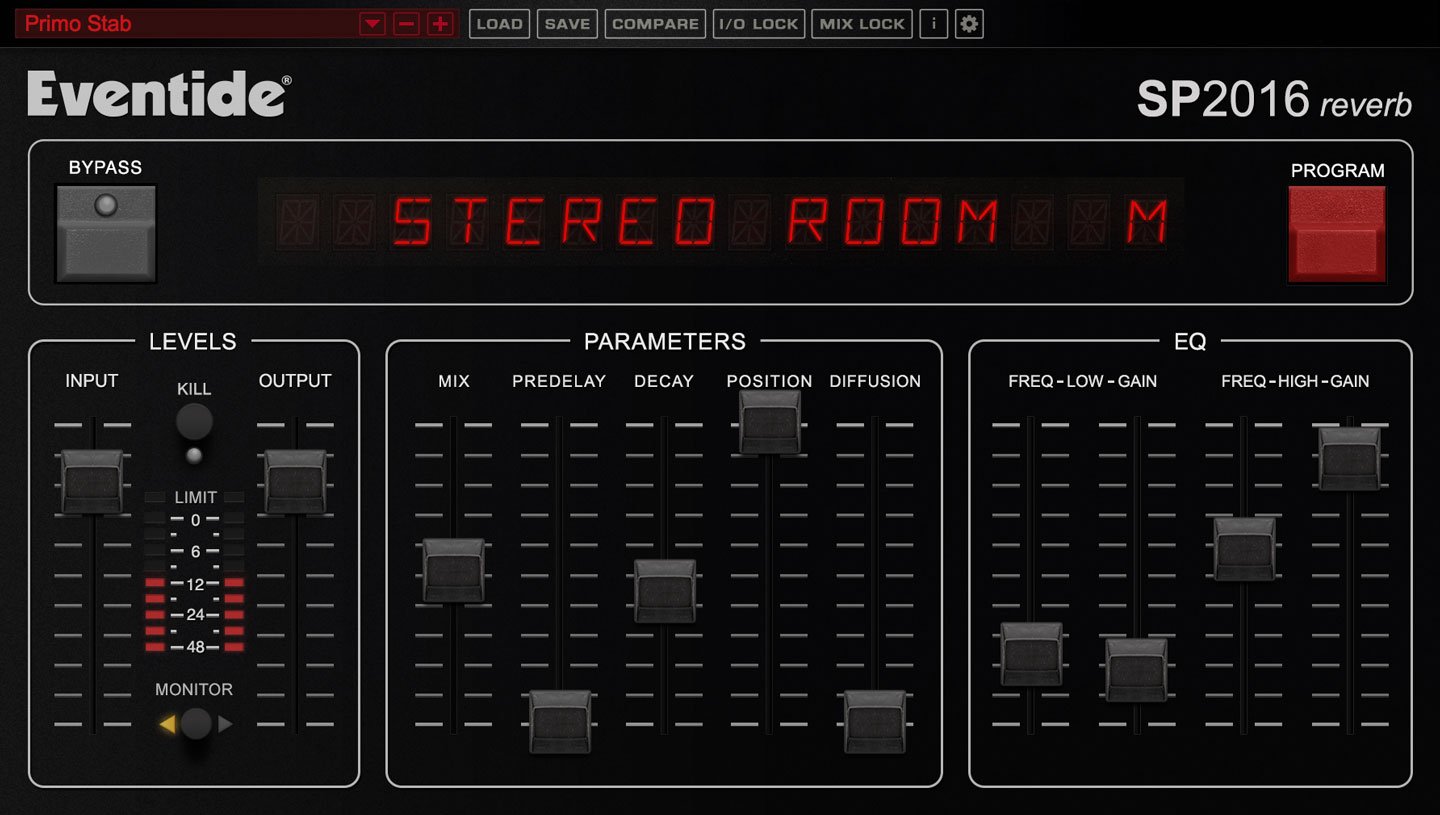 There are five sliding parameter controls at the heart of this reflection engine;
Mix
, (wet/dry and defeatable for use on a bus)
Predelay
,
Decay
, (time) the aforementioned and mighty
Position
and
Diffusion
. (or density) That's pretty much it, barring the input and output level sliders, a meter that reads either of the above, a handy 'dry kill' switch so you can audition the reverb tail in solo, and a two band EQ with sliders for gain and cutoff frequency; everything you need to tailor your reverb to your track/mix and nothing you don't, which is what makes this plugin so quick and so easy. if it were just that, I'd be sold, even without the modern versions of the three classic algorithms, but as Eventide and about a zillion mix jockeys have pointed out, it all sounds natural and realistic, and it sits so perfectly in your mix, you'll bust out an ear to ear grin. And for a bonus, dozens of presets from hotshot producers and engineers, many of whom built their careers around the original hardware box, There is by the bye, also a new hardware version of this reverb.
So, what doesn't it do? Modulated reverb tails, reverse reverb and that 'ubiquitous in the 80's' gated nonsense, but you can always add a gate or modulator to the chain if you need that, or you could check out some of Eventide's weirder stuff, like the inverse reverbs in their BlackHole plugin. I seldom need a complex cavernous hall, (and who can hear that on earbuds?) so the SP2016 will be my meat & three reverb for the foreseeable future.
more, from:
https://www.eventideaudio.com/products/ ... 016-reverb