I finally got my space cleaned up enough to post some pictures :)
After having various nooks and corners set up in various apartments on both coasts, I was determined to set up a permanent recording space when we finally bought a house in San Francisco. I have accumulated the gear over time, and it ranges in quality from pretty bad to pretty decent. The two biggest advantages of my current space are 1) rarely having to set anything up when it's time to record (the exception being two additional mics I have to throw up for decent drum recordings) and 2) having a patch bay!
So here's my list of gear:
Windows 10 PC (Xeon E3-1245 quad core processor, 16GB RAM)
Focusrite Scarlett 18i20 (only recently upgraded from an old M-Audio FW1814 because I wanted more effect sends)
REAPER (plus 4 or 5 FREE 3rd party VST effects and 4 or 5 FREE virtual instrument libraries)
Mackie 1402 VLZPRO mixer (left over from my rock band days, but the preamps still sound pretty good)
ART TPS (tube preamp)
FMR Audio RNC1773 (Really Nice Compressor)
Alesis NanoCompressor (left over from my rock band days, but still comes in handy sometimes)
Mackie MR MK3 monitors (with socks stuffed into the rear ports!)
Avantone Mix Cube
Beyerdynamic DT 990 Pro mixing/monitoring headphones
Alesis Q25 2 octave USB Midi controller
4 SM57s and 2 SM58s
Shure Beta52 Kick drum mic
Matched pair Behringer C-2 small diaphragm condensors (bolted to the ceiling over the drum kit)
Shure SM7b
MXL Guitar Cube Pro large diaphragm condensor
MXL V63M large diaphragm condensor (came for free with something I ordered online)
MXL 4000 multi-pattern large diaphragm condensor
MXL 603S small diaphragm condensor (came for free with the 4000)
Matched pair of LYX Pro 5DPC-2 small diaphragm condensors (with cardioid, supercardioid, and omni capsules)
Apex 205 ribbon mic (with wind screen mod, and soon to be modded with a Lundahl transformer)
$250 Craiglist drum kit
Guild S-70 6-string solid body (1970s, repaired headstock, new pickups, modded with a coil splitter and a mute switch)
Rickenbacker 330 Fireglo (Late 80s/early 90s)
Gibson Flying V (2018 Christmas gift from my wife, the third Flying V I have owned)
G&L Climax Bass (1996)
G&L L2000 (vintage unknown)
Taylor 114e steel string acoustic/electric
$100 Epiphone steel string acoustic (painted green, self-installed pickup, bridge has popped off and been repaired multiple times)
Cheap Yamaha classical guitar
Gretsch 1883 5-string banjo (no resonator)
3 Ukuleles (1 tenor and 2 sopranos)
Russian Balalaika
2 octave, 8 button accordian
Glockenspiel
Casio Privia 88 weighted key keyboard (inherited from former band)
Alto saxophone (I played from 5th to 8th grade, can still get simple tunes out of it)
Trumpet (I can barely get weak fart sounds out of it, but one day I'll figure it out)
assorted percussion, noise makers, and effects pedals
Sorry that list was so exhaustive, but I was having fun cataloging everything for the first time ever :)
And now, if you made it this far... here are the pictures: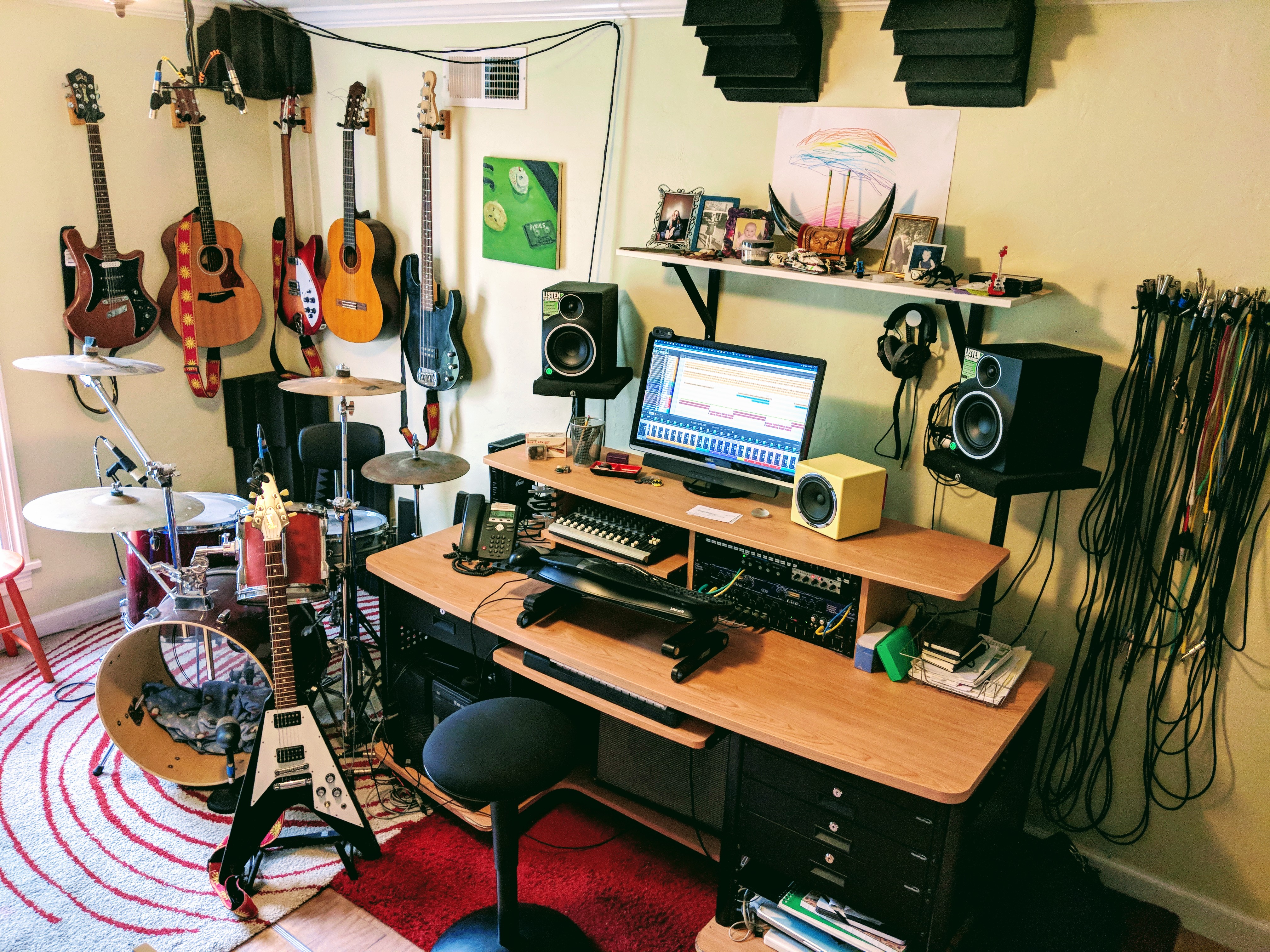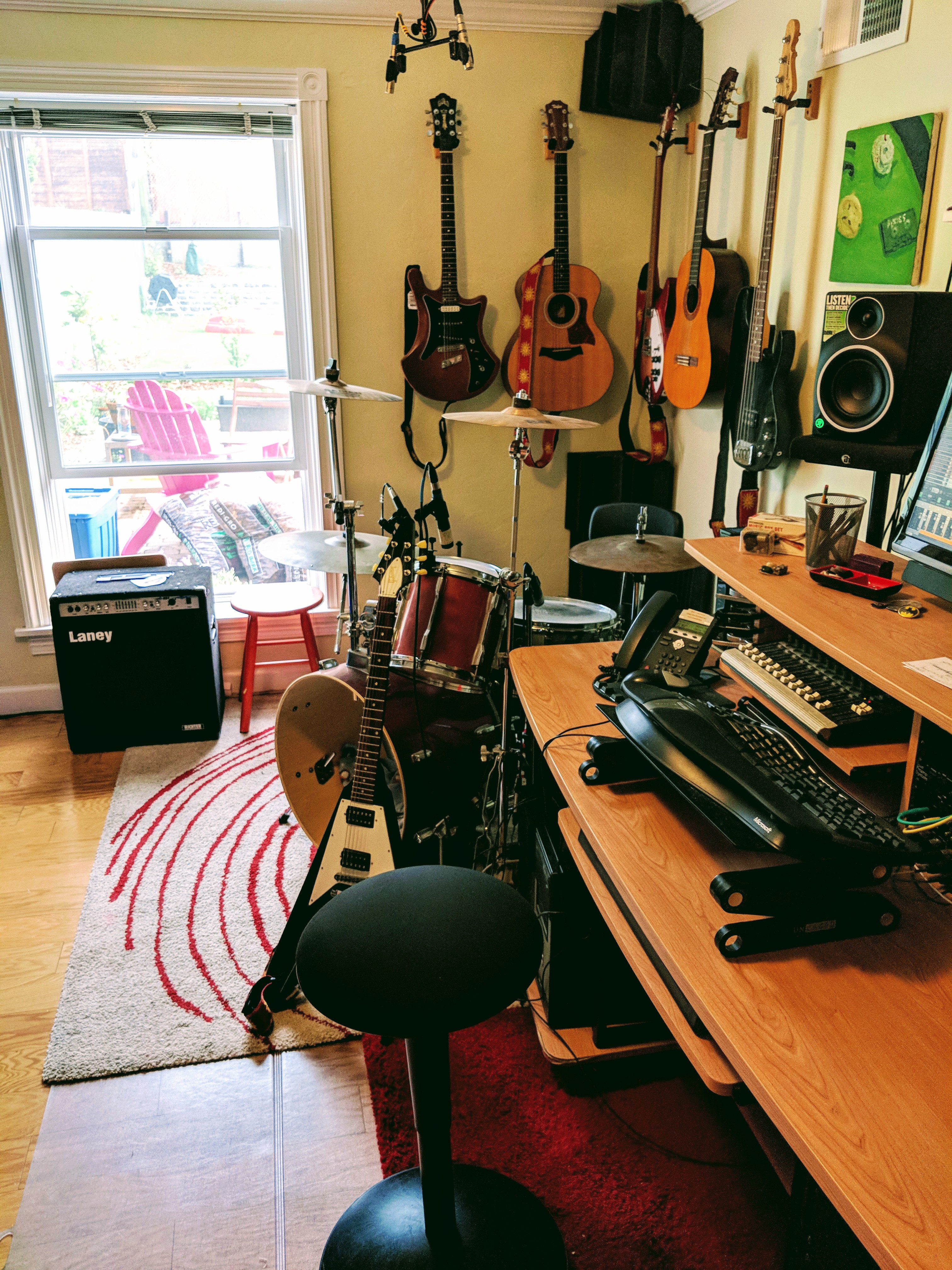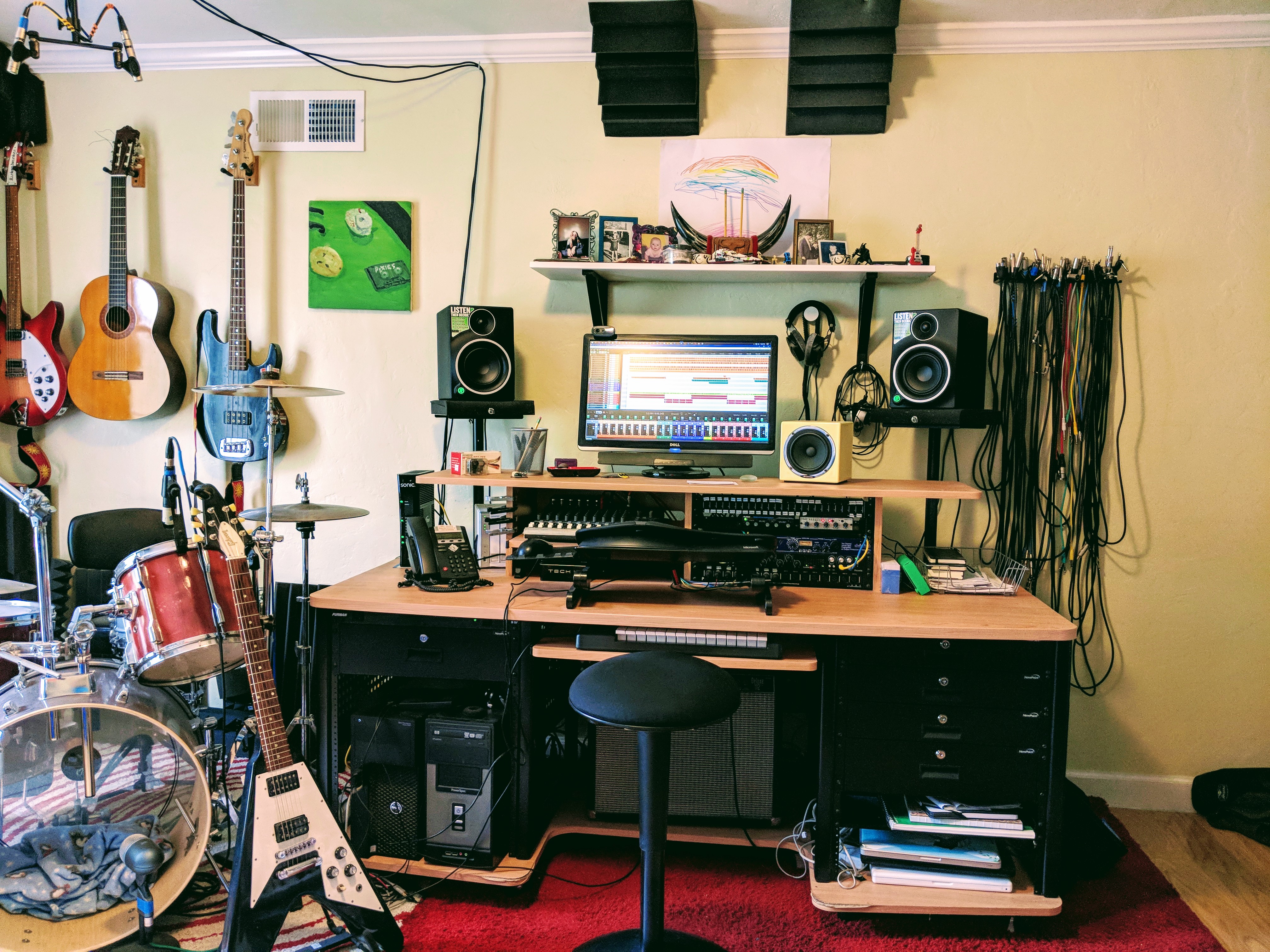 Minimal sound treatment, but it seems to be working ok and my ear is finally adjusting to the room. There's also a pull out couch, a tall bookcase, and my wife's desk/office space on the other side of the room, all of which helps to absorb and/or disperse some echos. Also, after buying the house we discovered that the previous owner had put down the floor panels *over* a carpet, which seemed really weird/cheap, but for my purposes is probably helpful!
If nothing else, this post proves that with a whole lot of crap in a relatively tight space, you too could take FOUR YEARS to get TWO TAXI forwards, and another SIX MONTHS to get your first library deal... or you could follow
Matt Vander Boegh's example
and go for the gold ;o)
-Bill